The vineyards of the estate are cultivated in the spirit of sustainable agriculture, avoiding chemical fertilizers and herbicides. In a constant effort to do more for the preservation of the environment and high quality wine production, Mauvanne is in the process of obtaining the "Haute Valeur Environnementale" (High Environmental Value) certificate, the highest of the three levels of environmental certification for agriculture in France at the present time.
The vineyards cover a total area of ​​43 hectares of which 38 are planted within Côtes de Provence Designation of Origin (Appellation d'Origine Protégée aka AOP), 5 hectares are within Protected Geographical Indication (Indication Geographique Protégée aka IGP). The plots are located in the plain, west from the Massif des Maures, with a portion on a slight hillside. The area benefits from unique geographical soil combinations associating gravel shale (80%) with sandy soils due to its proximity to the salt marshes.
The Mediterranean climate is particularly adapted to the culture of the vine, since it is characterized by long, hot, dry and sunny summers (about 3000 hours / year) and by mild and rainy winters. The Mistral, a cold and dry north-west wind, also plays a preponderant and beneficial role, for its dry breath prevents the vine from possible diseases favoured by humidity.
OBTAINING THE TITLE OF CRU CLASSÉ
The consecration arrived in 1955 thanks to the selection by the Institut National de l'Origine et de la Qualité (National Institute of Origin and Quality) of 23 domains with noble grape varieties and winemaking techniques ensuring impeccable quality, giving them the exceptional title of Cru Classé (Classified Vintage). Today, only 18 of these areas remain and continue to perpetuate their traditions and knowledge.
GRAPE VARIETIES
Château de Mauvanne has a wide range of grape variety. For the red and rosé wines, the Grenache, Syrah, Cinsault, Mourvèdre and Tibouren are complemented by the Carignan and Cabernet-Sauvignon grapes.
For the white wine, the Rolle goes along with Ugni blanc and Clairette.
With the exception of a few recently replanted plots, the average age of our vines exceeds twenty years. Some of our Cinsault and Ugni Blanc plants are over 40 years old, the oldest being Clairette which are over 70 years old.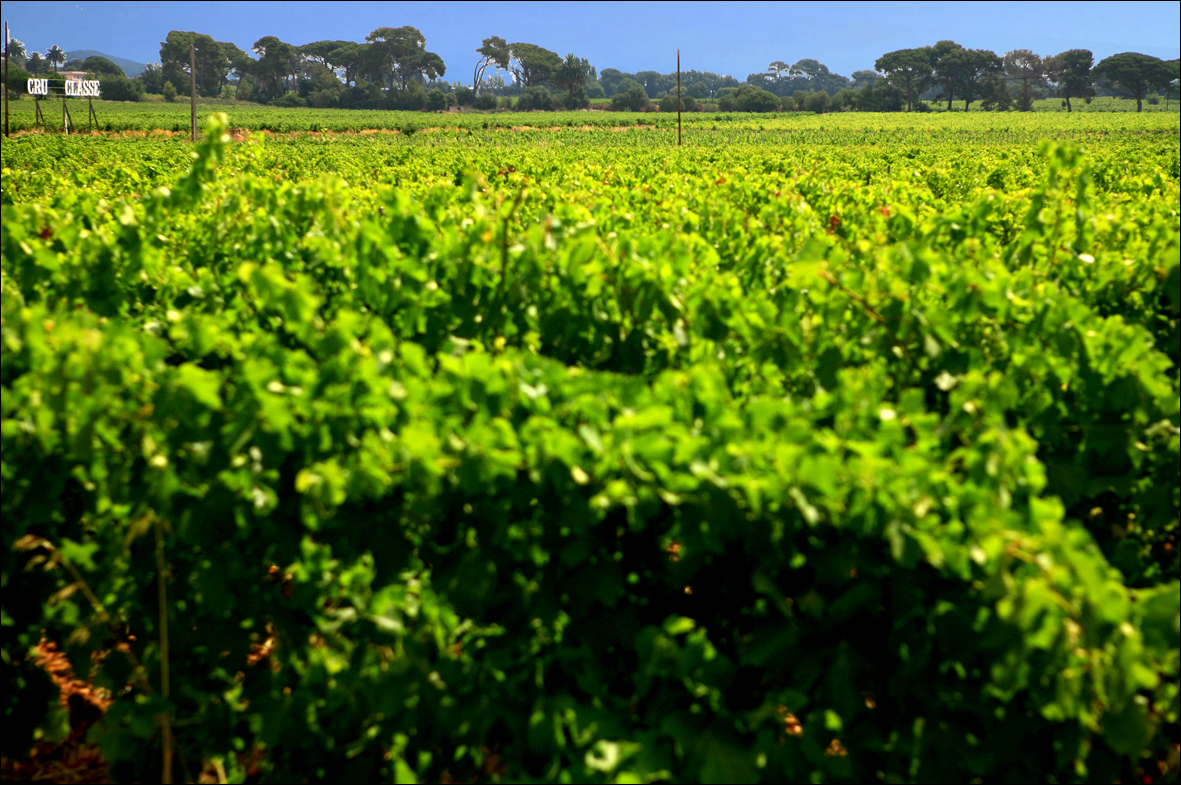 RED AND ROSÉ WINES
Syrah:
Syrah is a grape made up of small black berries with bluish reflections, with a thin but fairly resistant skin. It gives solid and colorful wines, rough in the first years because they are rich in tannins, but particularly suitable for prolonged aging. Over the years, its evolution brings characteristic notes of vanilla, havana and candied red fruit to the wine.
Cinsault:
Tasteful and beautiful, this grape variety of Provençal origin has long been used as a table grape. It is widely used in Provence for the production of rosé wines. It brings freshness, finesse and fruity to the wine, nuancing the power of other grape varieties.
Grenache:
This grape originates from Spain. Very productive, it resists strong wind and drought well. Grenache brings fat, fullness and power to wines. It gives young wines elegant aromas of small red fruits, but more spicy and animal notes to advanced wines.
Cabernet Sauvignon :
Uncommon in Provence, this famous Bordeaux variety consists of small berries with hard skin and crisp flesh. It gives the wine a tannic structure, powerful and sweet at the same time, which facilitates aging: its characteristic nose of green pepper, blackcurrant and tobacco distinguishes it from other grape varieties. Combined with Syrah, Cabernet Sauvignon can produce great wines for aging.
Carignan:
Adapted to poor soils, well established in the south of France, this grape widely used in Provence in the past tends to be more discreet. It needs to be grown on hillsides with low yields to express the best. He then gives robust, generous and colorful wines which constitute an excellent base of assembly. Vinified alone, it delivers aromas of cherry, raspberry, prune and needs a few years to skate.
Tibouren:
It is an authentic Provencal. The Tibouren produces delicate and elegant wines. It is ideal for rosés to which it offers finesse on the palate and richness on the bouquet. It is the preferred partner of other Provencal grape varieties.
Mourvèdre:
Its tight, small grains prefer warm, limestone soils. This grape variety has a slow maturation: it likes to watch the sea to ripen properly. It has been established for a very long time in Provence. The Mourvèdre produces robust wines with fine and well-asserted tannins. In its youth, the wine from this grape variety has aromas of violets and blackberries. Its velvety and suppleness, accompanied by characteristic notes of spices, pepper and cinnamon, reveal themselves after several years of aging in the cellar. Mourvèdre is often associated with Grenache and Syrah.
Merlot:
The Merlot supports varied soils or densities from 3,500 to 10,000 vines per hectare. It also has a relative resistance to wood diseases. Not very sensitive to oxidation, it has a capacity for aging in tanks or barrels and gives good wines wherever it is planted. Even in areas with little wine, you can get an honorable product. Its well-characterized aromas make it recognized even by the uninitiated. Even if it keeps well, it can be drunk quickly.
It produces thirsty, fruity, fine and colorful wines or ample, structured and complex wines for aging. It can be used alone to produce a varietal wine or in blending with Cabernet Sauvignon or Cabernet Franc, with which it gives ample and complex wines.
WHITE WINES
Rolle:
The Rolle, also called Vermentino, is very widespread in Provence. It matures late and requires a warm climate. It is both robust and of a very high taste quality. It gives the wines aromas of citrus and pear, almond and fennel. It also brings fat, balance and a lot of finesse.
Clairette:
This grape variety is typically southern and very old in Provence. It produces little but its oblong grains are vigorous and resistant. Clairette produces aromatic and bouquet wines with notes of white flesh fruits, fennel and linden.
Ugni Blanc:
This Tuscan grape variety has round and juicy berries, grouped in large elongated clusters. Ugni Blanc is sensitive to frost but vigorous and very productive. It allows to obtain a clear and fruity wine, of great finesse. Combined with other grapes, it brings a touch of freshness to the wines.